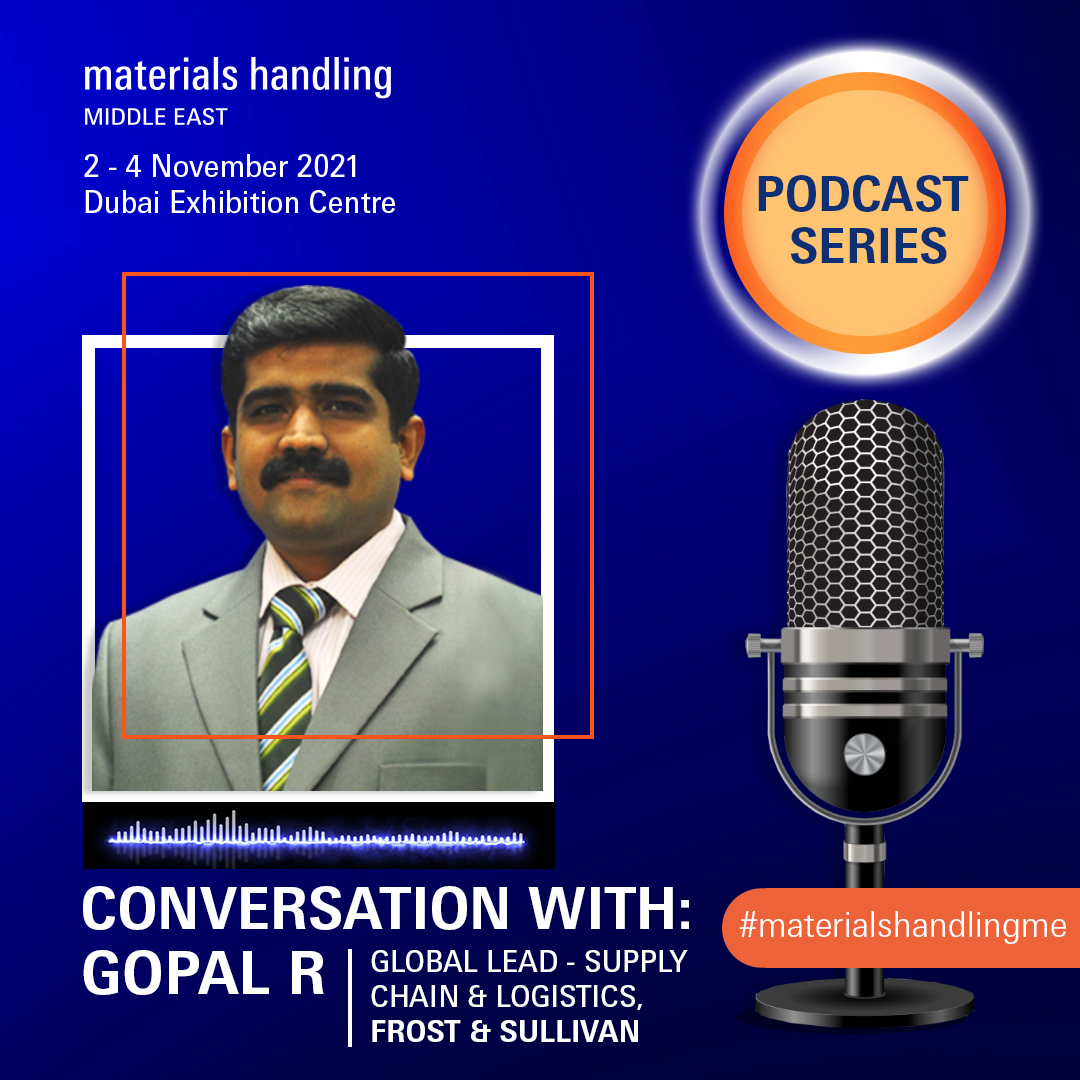 Episode 1: GCC Supply Chain & Logistics update
We are delighted to be joined by Gopal R for the first edition. Gopal is Global Lead - Supply Chain & Logistics for Frost & Sullivan and has over 18 years of experience encompassing Management of Consulting Business Units, Country Operations, New Market Development for Research, Consulting and Logistics Services, Project Management of Significant Engagements leading up to Heads of State, Ministries and Companies, Building New Teams, Research Approach and Processes.
Gopal R has two decades of exciting and valuable experience encompassing Country Operations, New Market Development for Supply Chain & Logistics Services, Business & Government Advisory and Analytics in APAC & MEA, with exposure and travel to 25 Country Markets across various Regions of the Globe.
Leadership of Strategic Engagements leading up to Heads of State, Ministries and CXOs.
Building Teams, Management of Advisory Practice Areas, Excellence in Analytics Approach, Processes and Implementation.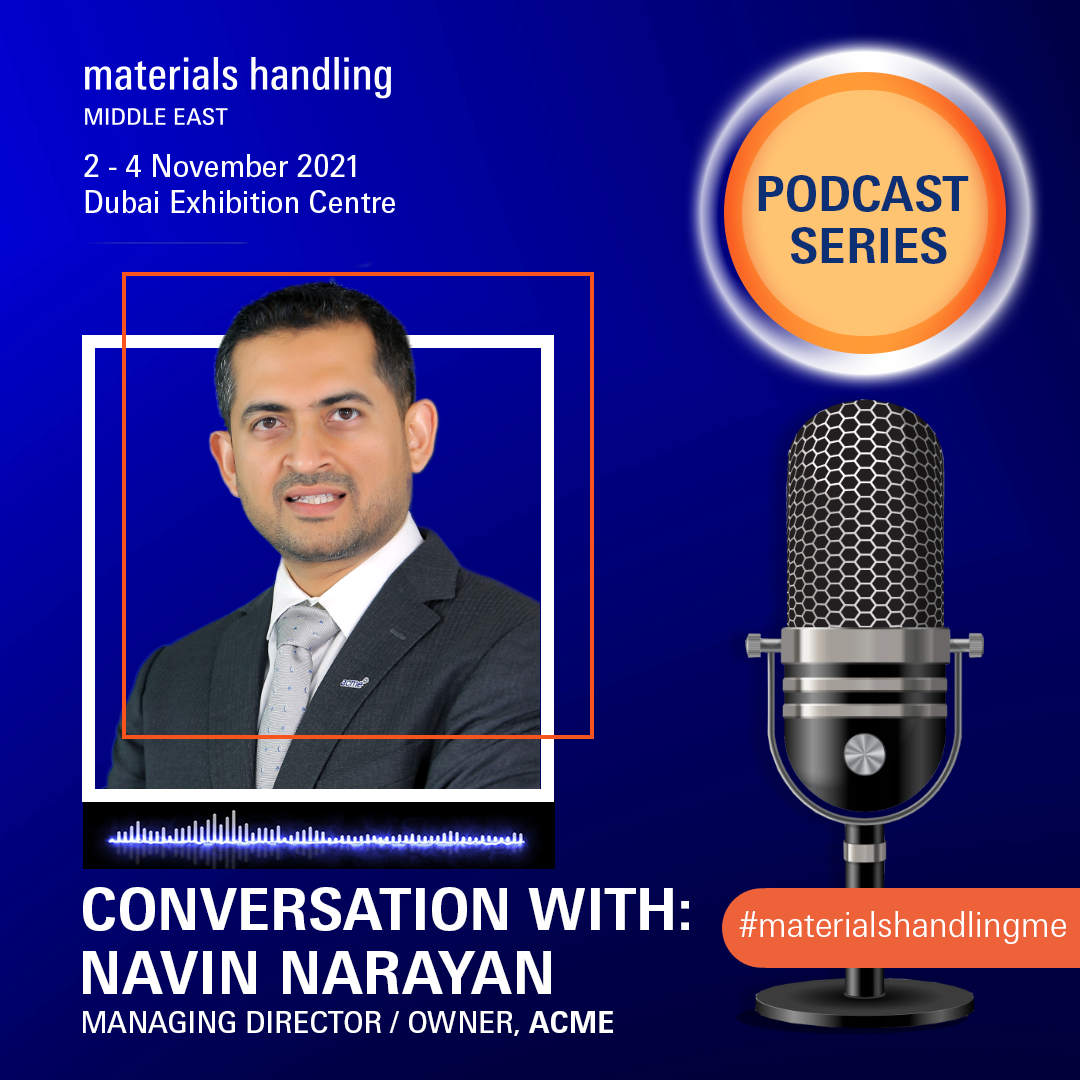 Episode 2: Future of Warehousing
This interview will address the rapid pace of change that the warehousing sector is undergoing, with a particular focus on the next-gen tech being adopted to accelerate performance in storage facilities across the GCC. Our guest will be Navin Narayan, Founder & CEO of ACME, one of the region's leading providers of industrial and intralogistics automation components and solutions.  
Navin is committed to creating a sustainable future for his organisation by staying ahead of the curve and promoting new technology and methodologies which are highly needed in the industry.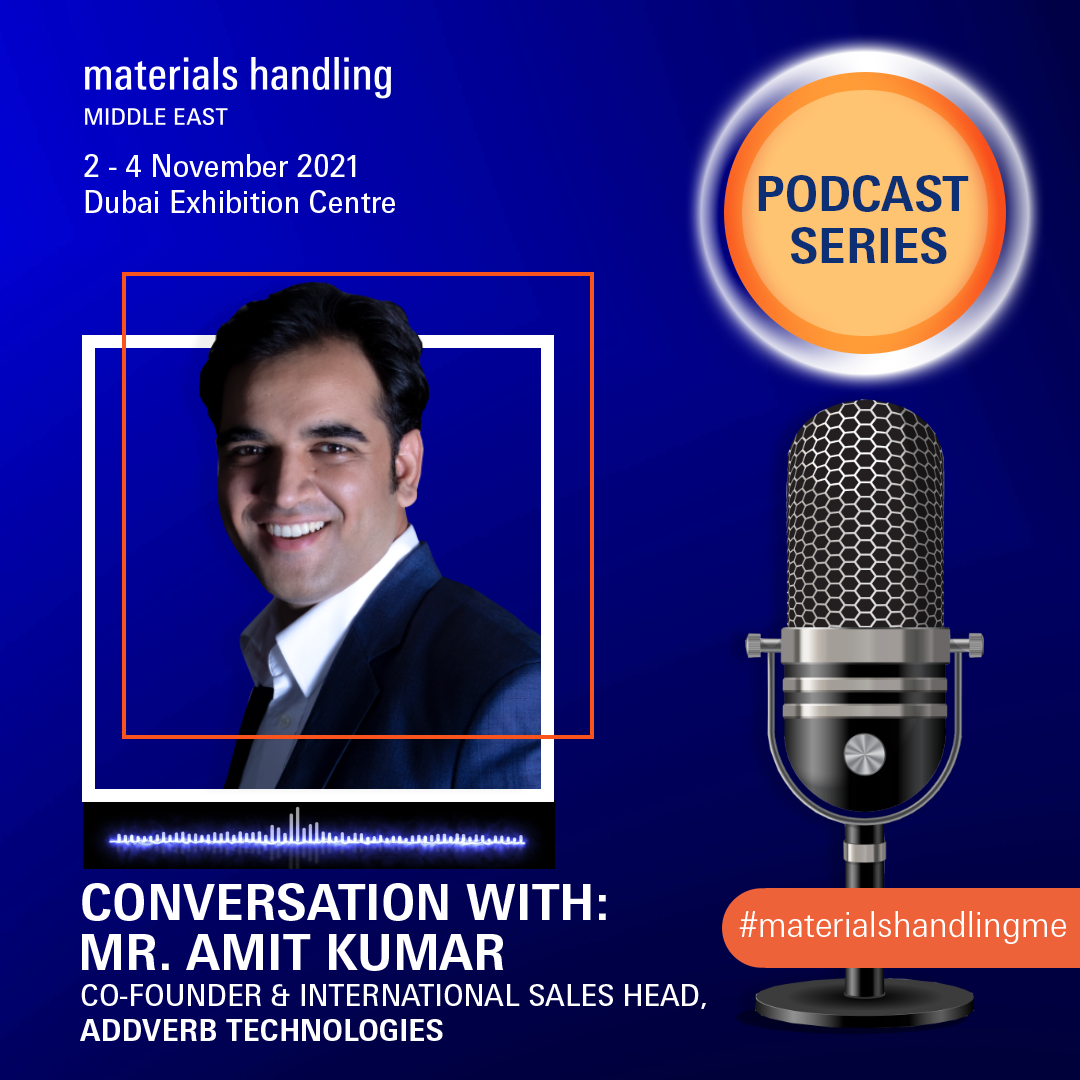 Episode 3: Enhancing Human Lives through Robotics that redefine motion
Our latest podcast with Addverb, discusses the function and the concept of human-robot collaboration. It's about robots helping humans work better and faster by leveraging advanced technologies like the Internet of Things (IoT) and big data. It adds a personal human touch to the Industry 4.0 pillars of automation and efficiency.

Addverb's products incorporate the latest technologies and vastly improve the efficiency and accuracy of the intralogistics operations. With their innovative products and solutions, they facilitate our customers to embrace Industry 4.0. 
Amit Kumar is the co-founder at Addverb Technology, one of the fastest-growing mobile robotics start-ups and and has managed large value projects by his dynamic personality.  He is an expert in IT & project management and an industry veteran in the space of Technology and its implementation in Supply chain and Logistics. He carries 10 years of experience in the industry.
He started his career with Infosys Technologies Limited, where he proved his mettle as a software Brainiac. He worked as a Team Lead and managed a team of developers for enhancing an order management system and handling the offshore activities. He later on served the same organisation as a consultant where he worked on SAP implementation and support for an agribusiness giant based out of Switzerland. Over the years he attained experience on SAP, requirement analysis, reengineering processes, evaluating end-user requirements, implementation, custom designing solutions and troubleshooting problems in the process.
He has served an eminent position at Asian Paints where he managed the commissioning of IT systems at its Rohtak Manufacturing facility, which is Asia's biggest paint manufacturing plant. Here he developed a proficiency in the warehouse space and managed the configuration, enhancement and maintenance for various projects' module in SAP. 
A mechanical engineer from Punjab Engineering College, Chandigarh, Mr. Kumar also holds his PGDITM degree in IT Management & Supply Chain Management from National Institute of Industrial Engineering(NITIE), where he was awarded with the Directors Award for his outstanding academic performance.
Before joining Addverb, he was associated with Shubhram Hospital Solutions Pvt. Ltd as Chief Operating Officer. Here he managed the team across multiple disciplines such as Production, IT, Utility and Quality and contributed to the growth of the organisation.
He ventured into Addverb with his sharp analytical skills, expertise in the supply chain & operation space and an exposure to work in international environments such as Switzerland, Singapore, Spain, France. At its nascent stage, Amit handled the responsibility of IT and Finance in the organization. As Addverb is going miles, he is leading the International Business, for further expansion of Addverb at a global level. He is an established thought leader of all the facets of technology 4.0, disrupting and transforming the way industries work around the globe.
He has a dynamic personality of matching a sync with everyone. Also, he hones incredible articulation prowess enabling effective process change initiatives. With a knack of excellent organizational and project management skills, he is converging all his expertise and zeal towards unfurling the power of technology, robotics, and automation to each and every corner of the globe to revolutionize the way we imagine automation!