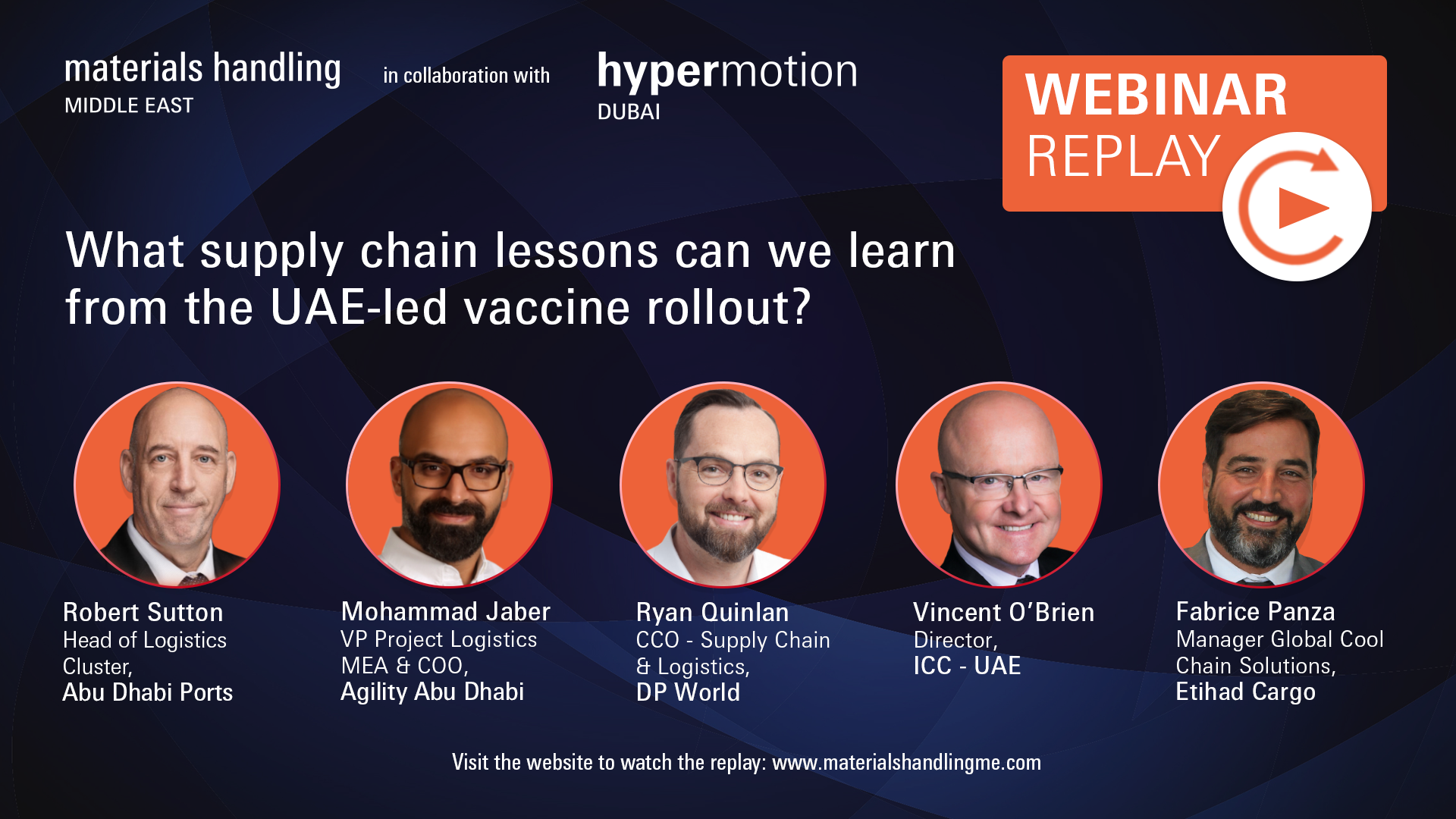 Dubai, UAE: Senior figures from the UAE's supply chain and logistics sectors shared their insights into how the country is leading the way in the distribution of billions of covid-19 vaccines across the globe in a recent webinar organised by Messe Frankfurt Middle East.
The Vaccine Logistics Alliance (VLA) and the Hope Consortium are two UAE-based groups comprising government and private entities collaborating to ensure an expected surge of inoculations are delivered safely and efficiently this year, in particular to developing countries in the Middle East, Africa, and South-East Asia.
Together with more than a dozen global pharma, airline, ports, and freight forwarding partners, the two groups plan to have the capacity to transport, store and deliver more than 20 billion covid-19 vaccine doses across the globe by the end of 2021.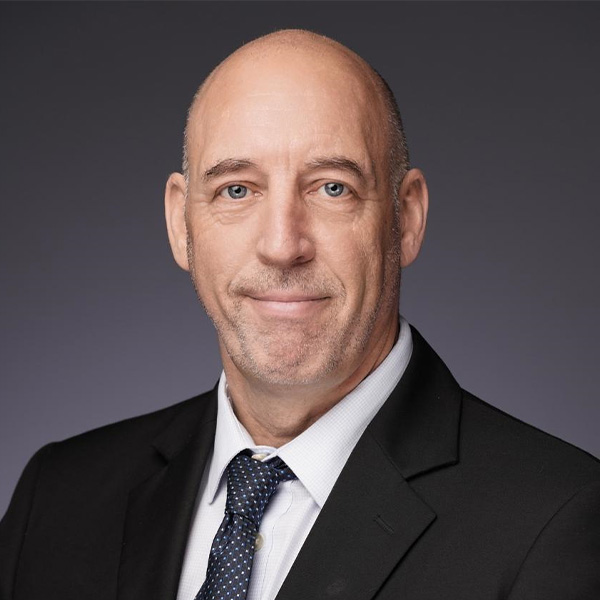 Undertaking such a mammoth task in developing countries with little existing infrastructure is a huge challenge, said Robert Sutton, Head of Logistics Cluster at Abu Dhabi Ports, a founding member of the Hope Consortium, which includes 13 other regional and global partners.
Sutton said cooperation and collaboration between the consortium's partners and network of external partners is critical in ensuring vaccines are not just delivered, but administered safely:  "We go beyond the movement of products; we support the deployment of nurses, doctors, field hospitals, and tents into the countries that need it most," he said.
"Many of our contacts will ask us if we could support, let's say the deployment of 20 million vaccines, from anywhere in the world to somewhere in Africa.  We can provide them with logistics services from point of production all the way through to distribution and vaccination in the country. 
"We don't do that as the Hope Consortium alone but through a fantastic network of medical partners that work alongside us to deploy the specialist nurses and healthcare professionals.
"The Hope Consortium provides a scale and reach of which we've never seen," added Sutton.  "I've been in logistics for 25 plus years. I've never seen this level of collaboration, this level of willingness and this level of absolute single-minded commitment towards a single goal, which is the eradication of covid-19 when we return to normality."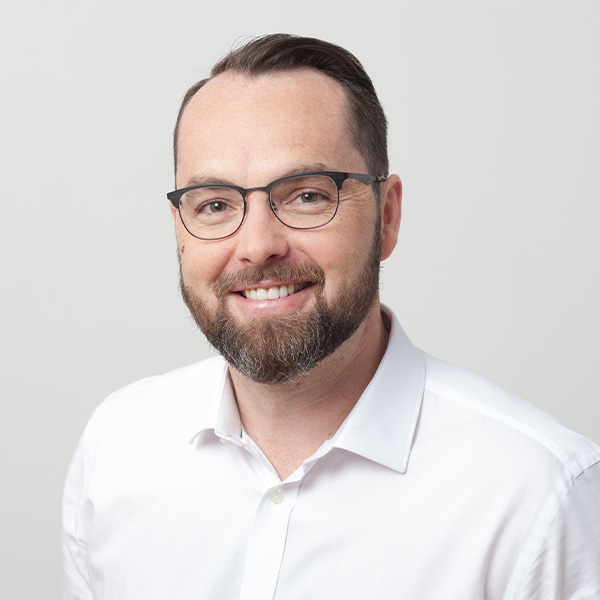 Ryan Quinlan, CCO of Supply Chain & Logistics at DP World, and Dennis Lister, Vice President of Cargo Commercial Development, at Emirates SkyCargo were also part of the March 2021 webinar hosted by the Materials Handling Middle East and Hypermotion Dubai trade fairs, which both run from 2-4 November 2021 at the Dubai Exhibition Centre.
DP World, a global ports operator, and Emirates, Dubai's flagship airline, teamed up with Dubai Airports and International Humanitarian City (IHC), a Dubai-based global centre for humanitarian emergency response, to form the Vaccine Logistics Alliance in January 2021. 
Quinlan said the international vaccine distribution drive now underway is the largest single logistics challenge globally since the end of the Second World War. However, Dubai's ideal location at the cross-roads of multiple continents combined with an already robust cross-border trade infrastructure meant the Emirate was ideally positioned to distribute the vaccine efficiently and effectively.
He added DP World felt a responsibility to ensure that vaccines are rolled out in emerging markets, with its global network of ports, terminals, and logistics infrastructures in 61 countries on six continents.
"One example of this is what we're doing with UNICEF right now," said Quinlan.  "We're working closely to match UNICEF's needs with our capabilities and working in these 61 countries.  We're now setting up a (cold) storage facility for UNICEF in our Jebel Ali Port in Dubai."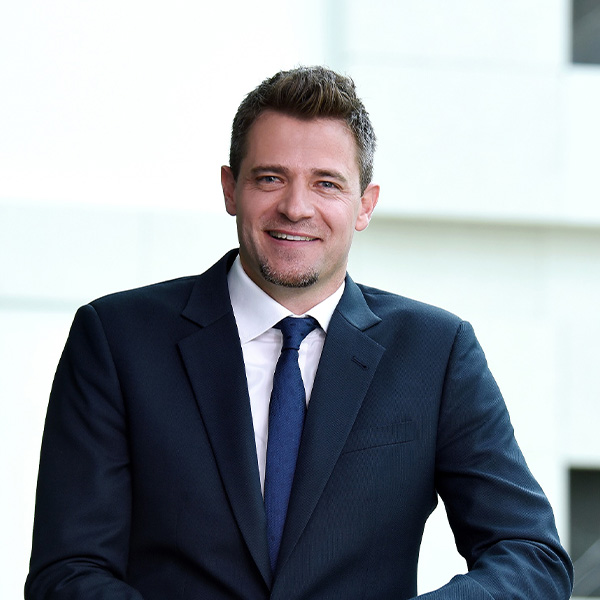 Lister added Emirates' network of more than 130 destinations means it has direct access to emerging markets severely affected by the pandemic: "If you'd fly out from Dubai, within maybe four hours, you basically hit more than three billion people," said Lister.  "So, from a geographical perspective, we have a great reach to those markets in the Middle East, Africa, and Indian sub-continent."
Lister said even prior to the pandemic, Emirates SkyCargo had already invested significantly in infrastructure on the ground as part of its ongoing expansion activities. 
"If you look at what we've done at DWC (Dubai World Central) and the Al Maktoum International Airport, we've established that as a vaccine distribution hub," he added.  "So we've invested in the last five years.
"We've invested over US$200 million in our facilities across the UAE to ensure that we have the right capabilities to manage medicine and pharmaceuticals from this hub internationally.
"There are two important commodities in the world that need to continue to fly around the world, and that's food and medicine," Lister continued.  "We move 600 tons of food and 250 tons of medicine pharmaceuticals daily around the world.  Our responsibility is to ensure we continue to fly because people need food, people need medicine, and we will continue to do that."
More than 500 million covid-19 shots have so far been administered in what is the world's largest vaccination campaign in history. Hutton said there've been many supply chain lessons learned that can applied for years to come. "We've listened, and we've learned to adapt," he said.
"What we've built in an incredibly short period of time, and we're talking about months, not years is a vaccine hub geographically that can handle over 120 million vaccines at any point in time.  We've also built the biggest freezer farm in the region that can handle 11 to 15 million doses of vaccines in temperatures of minus 80 (Celsius).
"One of the key learnings I would like to share is that we've achieved more with collaboration.  Collaboration has been one of the key pillars of our success. We've been transparent and our partners trust us. And we're very grateful and respectful for that trust.
"They've invested in us to work with them, to make sure that we collaborate collectively.  There will be speed bumps. There will be challenges along the way, but by leveraging all of the different partners and maintaining that level of transparency, we achieve a lot more together."
The Hope Consortium, with all its different partners, currently has the capacity to transport, store and deliver up to six billion vaccine doses, with this growing to potentially 18 billion by the end of 2021.  The VLA meanwhile was established to expedite the delivery of two billion doses to emerging markets in 2021, in support of the World Health Organisation's (WHO) COVAX initiative.
The 'Supply Chain lessons from the UAE-led global vaccine rollout' webinar was hosted by Messe Frankfurt Middle East, the organiser of Hypermotion Dubai, and Materials Handling Middle East.
Hypermotion Dubai is a new forum alongside Expo 2020 designed for pioneers who have successfully harnessed disruptive digital technologies for the future movement of goods, people and services.
The annual three-day event will take place with DP World as Global Partner and Dubai South as Future City Partner.  Other government partners and supporters include Dubai Tourism as Destination Partner; Dubai Chamber; UAE Ministry of Economy; UAE National Program for Artificial Intelligence; Dubai Supreme Council of Energy; and the UAE Telecommunications Regulatory Authority.
It will target a unique mix of Business-to-Government (B2G), Business-to-Business (B2B) and Business-to-People (B2P) audiences through strategic content, high-end networking opportunities, competitions and pitches covering all aspects of the future of intelligent transport systems. 
The 11th edition of biennial Materials Handling Middle East meanwhile, is the region's dedicated warehousing, intralogistics and supply chain solutions trade fair. It's last edition in 2019 featured close to 100 exhibitors while attracting more than regional 3,800 visitors and industry professionals.
More information is available at: www.hypermotiondubai.com and www.materialshandlingme.com.